DURATION
3 hours

DIFFICULTY
Easy
TRAIL TYPE
Out & Back

DISTANCE
5 km
Hiking to the top of Chapmans Peak from the Hout Bay side is nothing but rewarding. All-in-all this is quite an easy hike, and with it being tucked away in the corner of Hout Bay it doesn't get as many visitors as some of the more popular hikes in Cape Town. The Chapmans Peak hiking trail shouldn't take you more than 3 hours to complete and if it does, it's probably because you just can't stop admiring the views!
Getting started on the Chapmans Peak Hike
To get going on this trail you will need to head through Hout Bay and up Chapmans Peak drive past the toll gates. Don't be alarmed, you won't need to pay any fees as you won't be going all the way through. When you reach the toll gate simply ask for a picnic / day pass.
Once you're in through the toll you'll need to head all the way to the final corner where the day pass turn-around point is, just before the main view point. This is where you'll start your walk.
The trails starts off with a steady incline, heading up a small open river valley. This stretch is especially fun on the way down if you want to test your eye-foot co-ordination! Once at the top you'll find yourself at a bit of a cross roads which can cause a bit of confusion to some. The path to Chapmans Peak heads to the right and almost completely back tracks on the valley you've just come up. From here on out the trail is fairly flat with minor inclines along the way.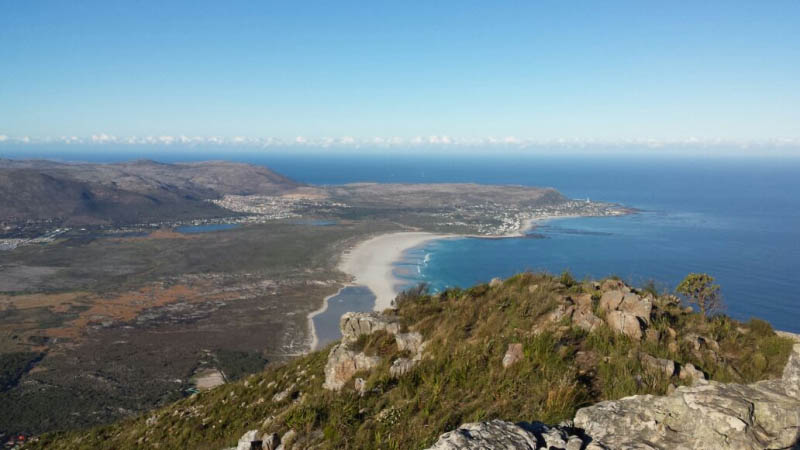 It's strongly advised that you bring a hat along as there is almost no shade for the length of the trail and can be quite de-hydrating in the summer. Navigating around the shoulder of lower Chapmans Peak you will eventually come to the saddle allowing you to see over into the Noordhoek valley for the first time.
From this point on you have about a 10 – 20 minute climb until you reach the summit. Reaching the top of Chapmans Peak is simply breath-taking. The views extend right over to Fish Hoek on one side and all of Hout Bay on the other. Find yourself a nice perch and soak up the panoramic views!