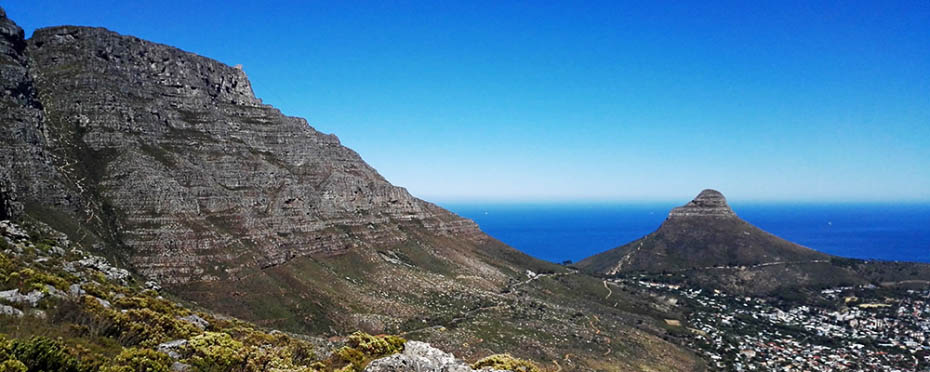 DURATION
4 hours

DIFFICULTY
Moderate
TRAIL TYPE
Out & Back

DISTANCE
5 km
Towering over Cape Town's City Bowl at 1000m, Devil's Peak offers avid hikers the perfect alternative to the more popular Lion's Head Hike. This must do hike, which offers spectacular 360 degree views of Cape Town, will take you around 4 hours to complete. There are three main routes heading up to the top of Devil's Peak. The easiest one is the route from Tafelberg Road. Be aware that it can often be extremely windy at the summit. It is advisable to bring along a wind breaker no matter how hot the day is.
GETTING THERE
Head up Kloof Nek. At the four way crossing towards the top turn left into Tafelberg road (turning right will take you to Lions Head and Signal Hill, heading straight will take you into Camps Bay). Tafelberg road is the same road to get to the Cable Way. Keep driving along here past the Cable Way for another 3km. Head past the Platteklip Gorge parking and just after this point there will be some parking on the left hand side and a sign for Devil's Peak on the right.
TO THE SADDLE
The path starts by zig-zagging its way up the lower slopes to the contour path for about 20 minutes. Follow the sign for Devil's Peak to the left. After a bit more zig zagging the path eventually levels out and heads towards the saddle connecting Devil's Peak & Table Mountain. You will reach a T-junction which is a great place to take a short break and admire the great views of the city bowl.
SUMMITING DEVIL'S PEAK
Follow the stream in the direction of Newlands Ravine until you reach the sign for Devil's Peak (to the left). The ascent to the summit is fairly steep and due to some erosion it can be a bit tricky to stick to the correct path. You should end up at a trig beacon to the left of the actual summit. Once here, head up the ridge for another 100 meters or so to the beacon at the top. By now you will have felt the force of the winds sweeping over you – unless you are one of the lucky ones!
There are many great spots to find a perch and enjoy the incredible views and some well-deserved snacks. When heading back down you can either go the same way you came up or head around the front of Devil's Peak. This will set you out a bit further along Tafelberg road and will mean walking along the road back to your car.