SNEEUBERG HUT | AN OVERNIGHT HIKE IN THE CEDERBERG
South Africa
Posted by Natasha Potter | Jan 06, 2019 | Hiking Trails, Cederberg
DURATION
2 - 3 Days

DIFFICULTY
Moderate - Difficult
TRAIL TYPE
Circular

DISTANCE
30 km
Every outdoor lover – or just, you know, everyone – needs to spend a little bit of time in the brilliance that is the Cederberg. Boasting varied vegetation, clear streams, scatterings of the protected cedar trees, peaks to summit and rocky mazes to explore, the Cederberg is a hikers paradise.
WHERE CAN YOU STAY?
Firstly, you can choose to set up camp at one of the campsites around the Cederberg Valley, and explore the multitude of day walks in the area. Another option is to bring your tent along for a multi-day hike. The Cederberg is a wilderness area which means that you can camp pretty much anywhere. Just remember to purchase your permit from Cape Nature first. Finally, you can opt to stay in one of their very basic overnight huts.
WHAT DID WE DO?
We opted for a multi-day hike. The plan was to split our nights between Sneeuberg Hut and free-camping along the trail. We left our car at Algeria campsite and mapped out a circular route that would take us back to Algeria.
However, the weather had other things in mind for us and our plan basically went out of the window. Hence, for this post, I'll focus on our first day – getting to Sneeuberg Hut via Duiwelsgat.
We left Cape Town before dawn and arrived at Algeria campsite full of excitement and ready to go. We parked our car, spoke to the reception staff about our route and estimated arrival time, made sure our packs had everything we needed, and off we went. Little did we know – we would only reach the start of the Duiwelsgat trail about two hours later!
It is approximately 4 km from Algeria to the start of the trail off Uitkyk Pass. We decided to walk and hoped to catch a ride on the way. Unfortunately, we were not successful. We walked along a slowly inclining road for what felt like forever, all before we even got started on the trail!
Our advice for car arrangements:
If you plan for this to be both your start and your endpoint, then leave your car in the parking lot on Uitkyk Pass.
If youre not comfortable with this and would prefer the security of Algeria campsite then try to arrange a lift to the start of Duiwelsgat trail.
Plan ahead and bring two cars – park one at wherever your endpoint is going to be!
DUIWELSGAT
You will begin with a long and slow incline up the valley. It's a beautiful walk and, if it has been raining, you will cross a few small rock pools catching water from Uitkyk Rivier. It's a bit strenuous if you're heaving packs for a multi-day hike, but the views help you along.
You should reach the highest point of the valley after about 3 hours. A very welcome stroll through a grassy plateau awaits you. This is a great spot to stop for lunch. We searched around a bit before we made home among some boulders. There are a lot of these hidden treasure spots. Seek and you shall find!
You then descend fairly steeply into Duiwelsgat Valley. The views here are inexplicably breath-taking. It's like the world opens up before your eyes, dropping into vast nothingness, and then rising again to form mountain ranges that go on for as far as your eyes can see. Take a moment at the top to soak it all in. And then down you go. You'll be walking along the edge of a steep cliff so be careful.
The path takes you through some thick and wet vegetation. This is a wonderful relief if it's a hot day. Be careful though – you might not be the only one enjoying it. We had an unfortunate encounter with a puff adder who was soaking up the sun in the middle of the path.
I backed away slowly and Jason banged on the ground with a stick. The vibrations scared it away and we were safe, but it was a terrifying experience. That moment completely altered my outlook on hiking.
I have always loved and admired the outdoors, but I now have boatloads more respect for it. When you're faced with how vast and isolated the wilderness truly is, and how easily a crisis situation can arise, you're a hell of a lot more prepared for it in the future.
From that moment on the frontman is always on snake watch duty!
UP YOU GO
Soldiering on, we continued on the relatively flat path, hugging the mountain, until we reached a steep climb. What goes down must go up – or something like that – right? There is a small area just before you reach the climb that you could camp at if you're running out of sunlight.
The climb is fairly straightforward. You just keep walking uphill for about an hour. Once you reach the top, all the hard parts are over! Walk over some rocks, through some grass, and along a clear trail which carries you through an open, grassy valley. You'll see Sneeuberg mountain towering over you on a clear day. It should take you around an hour and a half to reach your final destination.
SNEEUBERG HUT
Built onto a boulder (which makes up one of the four walls), Sneeuberg Hut is quite camouflaged. Don't panic if you don't see it at first. The path will lead you straight to it.
The hut is a simple contraption with a tin roof and a straw-covered floor. Protection from the elements is all it offers. But there are hooks to hang your bags on and there is a stream nearby for water. In addition, there is any number of rocks to choose from to scramble up and watch the sunrise/sunset. What more do you need in life?
SNEEUBERG HUT TO THE MALTESE CROSS
Getting from Sneeuberg Hut to the iconic Maltese Cross couldn't be simpler. Leaving Sneeuberg hut, you'll see a path to your right. This is the same path that takes you down to the stream. Follow this for about an hour and you can't miss the Maltese Cross becoming bigger and bigger as you get nearer.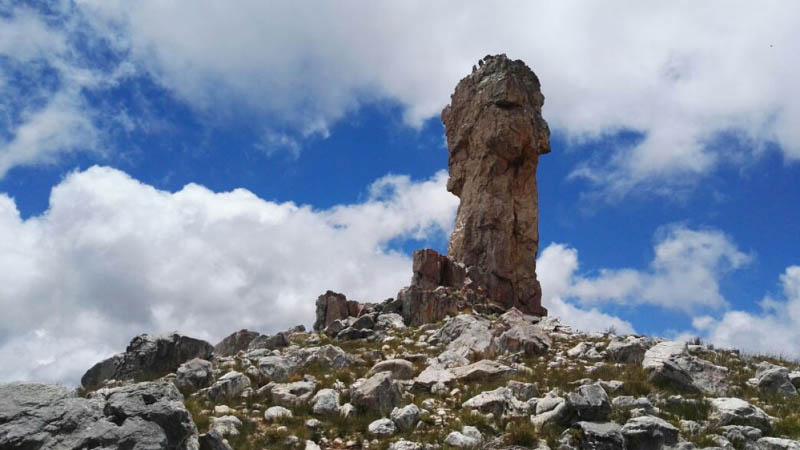 LEAVING SNEEUBERG HUT
Er, why? We're pretty sure you'll want to stay forever. But alas, if you really must leave, you're spoiled for choice here.
Firstly, you can head back the way you came via Duiwelsgat. This will give you the opportunity to see the beautiful valley from a different perspective. Alternatively, you could head past the Maltese Cross and towards Dwarsrivier. Or you can leave via the jeep track towards Eikeboom. We aren't going to go into detail about each of these options. It's a good idea to invest in a Slingsby Cederberg Hiking map to help you with your planning.
Whichever path you choose, be sure to have a vehicle waiting for you at the correct parking lot. Otherwise, you're in for a long walk!
(We need to add a quick shoutout here. We would like to send a huge thank you to both the family that couldn't fit us in but still gave us something to drink and to the family who picked us up just when we were fearing the worst! You guys were awesome!)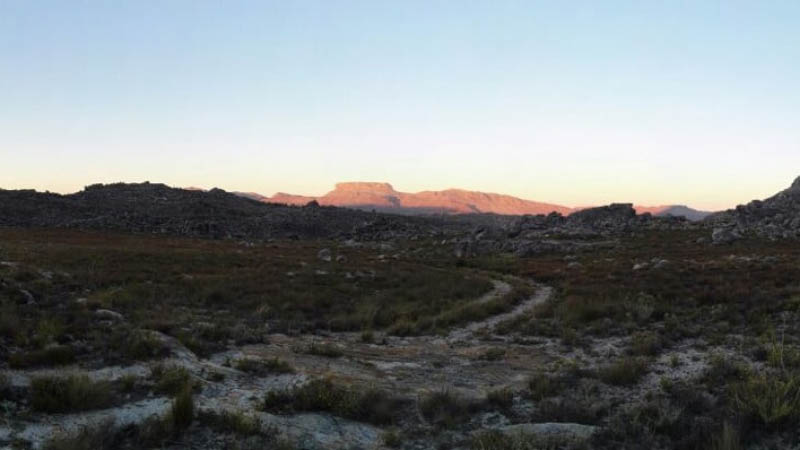 A few P.S's:
We know that most of you are awesome humans. Hikers usually are. But for that one person who needs this reminder – if you reach the hut and it's empty then great, maybe it will stay that way. But maybe it won't. So don't be a dick and try to take over.
Take your rubbish home with you. It's pretty simple. Respect other hikers. Respect nature. Okay? Okay.
The weather can be unpredictable, even in the height of summer. Make sure to pack for all seasons.