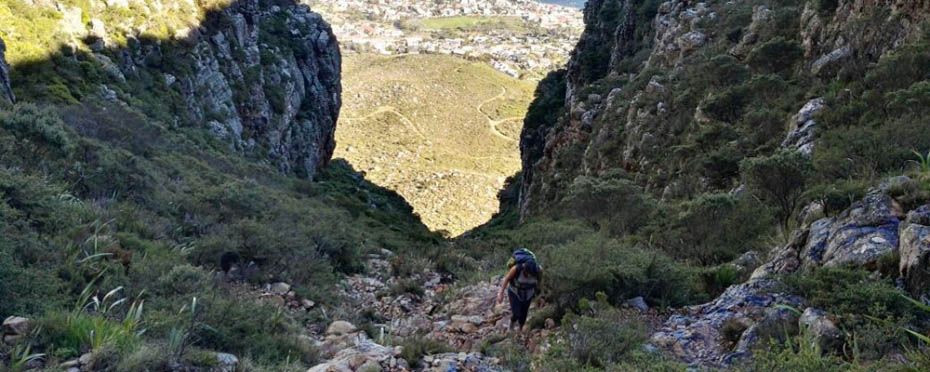 DURATION
3 – 4 hours

DIFFICULTY
Moderate - Difficult
TRAIL TYPE
Out & Back

DISTANCE
3,5 km
Diagonal Path is a favourite among avid Table Mountain explorers who prefer the quieter trails. It is a rather strenuous but fun climb with beautiful views of the Atlantic Seaboard and Lions Head in the distance. It takes approximately 2 hours to get to the top and you can choose from various surrounding trails to take back down.
GETTING STARTED
You have two options here – park at Kloof Nek and walk along the Pipe Track for about 3 km, or begin at Theresa Avenue in Camps Bay. From Kloof Nek it will take about 45 minutes to reach the start of the trail and about 20 minutes from Theresa Avenue. If you're coming from Theresa Avenue then you will need to turn left (towards the Cable Car) once you reach the Pipe Track.
HEAD ON UP DIAGONAL PATH
The start of the trail is clearly signposted. It begins with steep zig-zagging steps taking you almost half way. (Yes, I know, those steps are not my favourite either! But hang in there – you're almost at the fun part!)
Make sure to look behind you now and then because the views over Camps Bay are incredible. You will soon reach the Porcupine Cave, which is not so much a cave but a rock overhang. Nevertheless, it is a very cool place to stop and take in the views, have a snack and snap a few photos.
Here the path levels out as you head around Porcupine Buttress. And then the fun begins. Heading up Porcupine Ravine will be a scramble! It is steep, it involves a fair bit of climbing and you will need both hands free to do it.
Follow the path along the river bed for about 20 minutes and then keep your eyes open for a path that heads over the river and up to the right. It is a clear path that you will see if you know to look out for it. Follow this path and continue around Jubilee Buttress which takes you towards your final uphill of the day.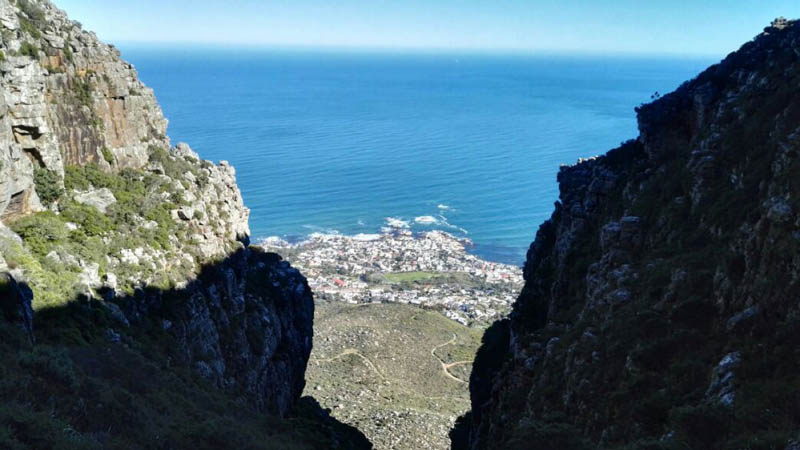 AT THE TOP
Diagonal Path up Table Mountain takes you into the Valley of the Red Gods. From here you have many options for exploring the top of the mountain and eventually heading back down.
We prefer descending via Kasteelspoort, which after the steep climb up Diagonal will feel like an absolute breeze. To get to Kasteelspoort you will turn right and walk the short path taking you in the direction of Hout Bay. You will find clear signposts along the path.